Shah & Associates is a global immigration consultancy firm since 1994. We are backed by our track record of success, holding the "trusted name in immigration". Our services has helped shape both economies through various immigration pathways such as Student Visa, Skilled Worker, Investor Programs etc. Our professionalism and promising solutions aim in providing you and your family with the best migration options. Our professional team and Dr. Shah Jaheer Ahmed (Ph.D) will provide you with the best consultancy through a fair engagement. Immigration to Canada is a priceless asset for your family and the next generation.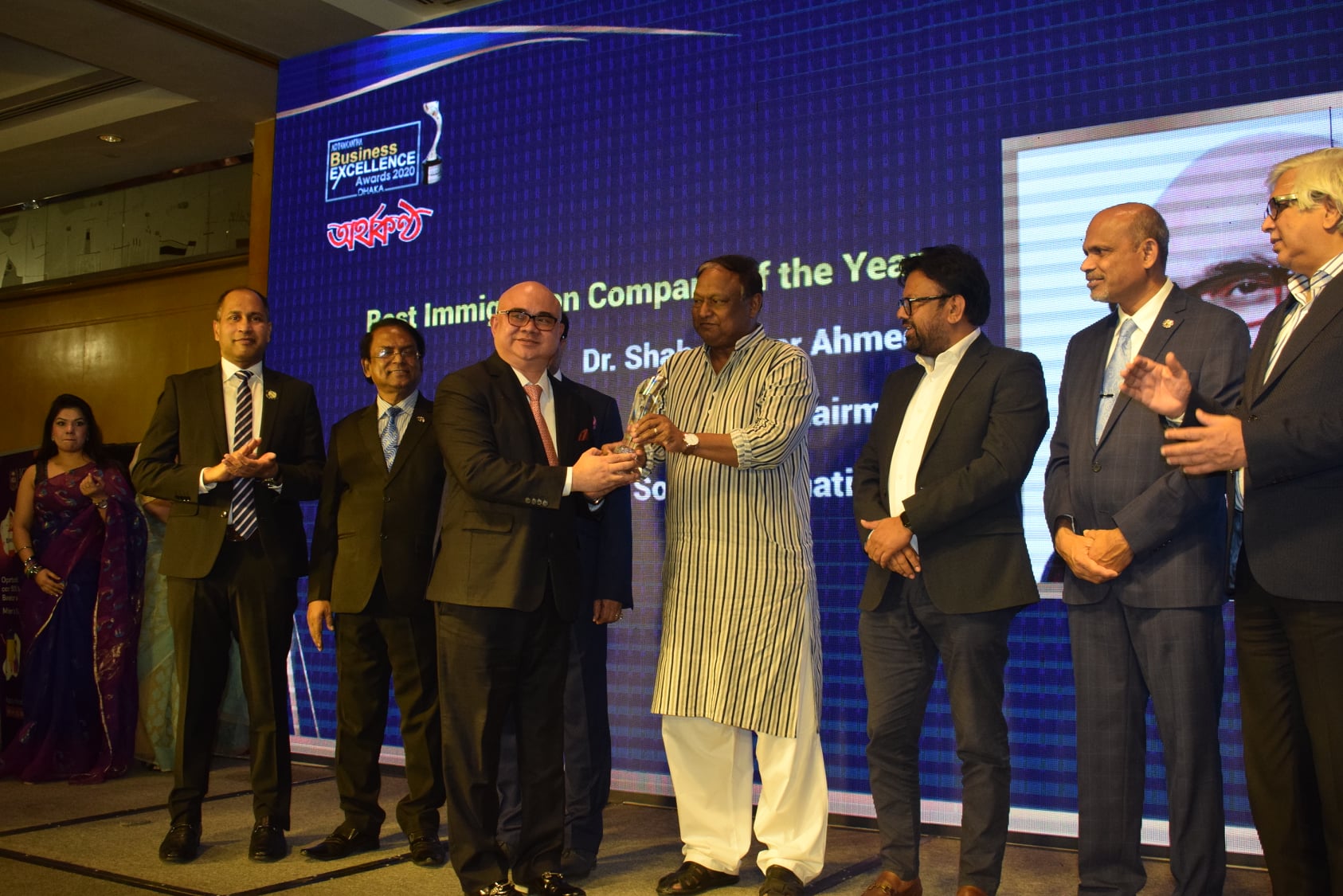 Dr. Shah Jaheer Ahmed, Chairman, Shah & Associates, "Southeast International", receiving the Arthakantha Business Excellence Award in the "Best Immigration Company of the Year" Category from Honorable Commerce Minister Mr. Tipu Munshi at Westin Dhaka on December 20, 2021.
Alhamdulillah by the grace of Almighty Shah & Associates has received the award for "Best Immigration Consultancy Firm In Bangladesh FY 2020".Congratulations to our honorable Chairman for receiving the award from Arthakhantha for the 4th time,  May Allah grant us more success, and prosperity in the future! In Sha Allah "The Trusted Name In Immigration Since 1994".
Dr. Shah Jaheer Ahmed , Chairman, Shah & Associates Southeast International
It is my great pleasure to express my gratitude and extend heartfelt greetings to the readers. I myself had migrated to Canada during the late 90's, with no experience in this field or any business background whatsoever. The beauty and systematic approach of Canada has enlightened me, realizing that the people of our country (Bangladesh) who aspire to live abroad and obtain a second residency, should have the scope and opportunity to migrate to such a diverse region where they can raise their children, providing better education and living standards. Hence after practicing immigration law in Canada I travelled to Dhaka, to analyze the market and set up the primary operations in 1994, thus opening the gates to Southeast International, what is now a sister concern of Shah & Associates.
I remember during the first few months the people would not believe that there is such an opportunity where people can actually immigrate to Canada. It was an awe-inspiring story to them. Gradually, word got out and I would single handily guide each and every client towards their application and prepare them for IELTS exams and help them towards their visa.
One example I would always give to the audience during our seminars is that moving to Canada is just the first step. Settling there is not a walk in the park. I myself had struggled a lot prior to my success in the city of Toronto, and that was 25 years back. One must have the perseverance and capability to reach their milestone and settle. I strongly believe in ethics and the fate set by our almighty, and have provided promising services with true engagement to my clients for over 20 years, which has helped me and my team to prosper this far with the solid reputation standing on our motto proudly "The Trusted Name in Immigration".
A Word From Our Managing Director
Shah Naveen Ahmed , Managing Director, Shah & Associates Southeast International
It gives me great pleasure to introduce myself, I am Shah Naveen Ahmed. I was born in Canada and studied in both Canada & Bangladesh and now I am an entrepreneur having operations in both continents. I'm currently serving as the 3rd generation director at Shah & Associates, holding the position as the Managing Director after the passing of my grandfather Late Dr. S M Shahbuddin Ahmed. After completing my Bachelors from York University in Toronto, Canada, I had shifted myself to Dhaka, to manage Shah & Associates, a sister concern of SouthEast International Limited. It gives me great pride and joy to be a part of such an organization built by my family, carrying on the success and dedication towards this firm and our client, of over 8000 worldwide.
l am currently looking after our firms Marketing, establishing a wide reach towards existing and potential clients around our nation. I am also responsible for recruiting and networking for solicitors and immigration lawyers around the globe. I have also introduced a new wing to our firm known as the "Shah & Associates EduAid Program", where we specialize in admissions and visa processing to undergrad, and post graduate students who seek to study abroad in Canada. I'm also currently undergoing practice to became a licensed RCICs and RISIAs, and become a part of the The Canadian Association of Professional Immigration Consultants.
Apart from my other ventures in IT and Food & Beverage, Shah & Associates holds a special place in my profile, as we seek to help people grow and help them achieve their goals in immigrating. Not only is this beneficial for both economies through employments, GDP growth and high flow of remittance worldwide, but also poses as a tremendous opportunity for the people of our nation to lead a more secured life with higher standard of living. We at Shah & Associates pursue to provide transparent and promising consultancy with an ethical standpoint and with the right advice from all our team. With digital advancement around the world, and both governing countries and their honorable Prime Ministers policies towards growth and immigration, this will indeed minimize the barrier to entry of migrating, hence, an ease in for applicants and an opportunity for diversification in both economies. We are the trusted name in immigration since 1994, and by the grace of Almighty we seek to serve the nation throughout the next generation.
Our ability to deliver outstanding performance for our clients starts with our team of smart, capable immigration experts. We come from a diverse set of experiences and backgrounds that range from Law Graduates and Business Graduates to in-house professionals for brands that represents Shah & Associates.
As unique as we are individually, we share a mutual passion for various policy changes and doing excellent work for our clients and partners. We pride ourselves on our strategic, integrated approach to public relations and the results it delivers.
Late Dr S M Shahabuddin, Managing Director, Shah & Associates Southeast International
I visited Southeast International for my Canadian Permanent Residency. Before choosing them, I consulted with few others and the level of engagement of their staff had with me during the processing, was really great. They were straight forward, followed up on my progress regularly and provided regular updates as they occurred. For honest, friendly and no-confusions during at each step, I am very appreciative of their services. They have established a personal bond with me, and it was a great experience from beginning till end. I recommend them for your one stop immigration solution
Mahboob Khan
- Client
Southeast International is the only place anyone should apply through. The members there are highly qualified, trustworthy, and diligent. They have guided and updated us every step of the way through the application process. We appreciate their services in assisting us to become Canadian permanent residents. We highly recommend them to everyone.
Emy Anwar
- Client
I could not be more satisfied with the service I received from Southeast International. They provided the perfect balance of professionalism and individual care. They took the time to explain the process every step of the way and while taking our input into consideration. When we came across problems we were unfamiliar with their expertise in immigration matter found solutions for our application. I highly recommend anyone in need of immigration services, to use Southeast International. It is because of them I am now a Canadian Permanent Resident along with my family, soon to be a citizen.
Arshad Anwar
- Client
It was a pleasant journey with Southeast International for my endeavour towards immigration to Canada. They guided me through every steps which led me to achieve my dream smoothly. All the consultants are very friendly and supportive. Moreover, they are meticulous and experienced. So I am happy that Southeast International helped me to achieve my dream and I hope the very best to them. Regards.
Saibal Das
- Client
Everyone is very helpful, dedicated and precise with their work in helping aspiring students and their spouses in securing a study permit and Open work permit.
Nayeema Nusrat
- Client
Diligent, responsible and helpful towards customers.
Rifat Islam
- Client
Shah & Associates provides excellent serivce for Immigration to Canada, USA, and other countries under various immigration programs. Their staff are well trained, well informed and up to date with everyday immigration changes. I would highly suggest if you are looking for a trusted and transparent immigration partner, You knock here. :)
Mushfiqur Rahman
- Client
Professional immigration firm with proven track record
laberge42
- Client